EPS sandwich panels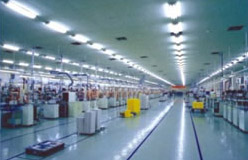 Polystyrene sandwich panel is a new lightweight building materials products, low price, stable performance, very wide field of application. [Materials] apply
A plate thickness: up / down 0.375-0.6mm color steel / electricity, hot galvanized plate / stainless steel plate.
(2) Core material: polystyrene (EPS) capacity 10-18kg/m3 Product specifications a tongue and groove style effective width:. 950mm, 1150mm; thickness 50mm ~ 150mm; length limitation. Product Features 1 Advantages: cheap, with a lightweight, durable, easy installation, wide range. 2 Disadvantages: Low flame retardant and smoke generated by burning toxic, will be suffocating.
3 fire rating: Oxygen Index: 30 [applicable] are widely used in the field of steel plants, simple activities room roof, walls, ceiling and air clean room partition.