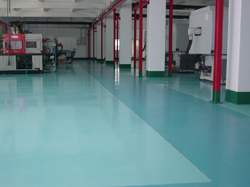 Thickness :1-5mm (divided into a three-coat fabric, two four-coated cloth, three cloth five painted several specifications)
Morphology: self-leveling trowel flow type, roll surface, slip-type and other life: over 8 years
Flooring Features: This kind of flooring is based on the traditional self-leveling resin mortar, combined with the practical effects, developed a new type of industrial flooring. When this kind of floor coating applied in two or three layers of glass fiber cloth as a reinforcing layer, play a role in skeleton, it can not only increase the matrix strength and elastic modulus, and can reduce shrinkage, increase the heat distortion temperature and low-temperature impact strength integrity and impact and resistant to pressure, there are significantly improved, coloring freedom, smooth and bright, easy to clean and care in future.
Scope:
Anticorrosive pool, pool chemical drugs, towers, anti-cracking floors, impact resistance requirements for higher places food plants, electroplating workshop, circuit board on the floor temperature is higher this place.
Floor Performance Specifications:
| | |
| --- | --- |
| Dry time (hours) | ≤18 |
| Drying time (hours) | ≤24 |
| Adhesive strength(Mpa) | ≥2 |
| Wear(750g/500r,Weightlessness.g) | ≤0.02 |
| Hardness (Shore D) | ≥80 |
| Compressive strength(Mpa) | 130 |
| Tensile strength(Mpa) | 100 |
| Flexural strength(Mpa) | 230 |
| ResistanceH2SO4,10% | 60Days unchanged |
| ResistanceNaOH,10% | 60Days unchanged |
| Resistant to gasoline,120# | 60Days unchanged |
| Water resistance | 60Days unchanged |
| Oil-resistant | 60Days unchanged |
Construction Technology:
1, water treatment: general ground floor need to do water treatment;
2, Su deal: According to prime position to do sanding, repair, removal treatment;
3, epoxy primer: exceptionally strong permeability and adhesion industrial epoxy floor coating once, enhanced surface adhesion;
4, laying fiberglass cloth: the fiberglass cloth smooth start with woven glass epoxy coatings will cement on the ground, and with trowel Daogua flat, evenly coating, enhanced ground toughness needed Shop 1-3 layer
5, the coating: epoxy resin by adding an appropriate amount of quartz sand, with a trowel evenly on the glass fabric;
6 batches of soil: 1-2 times depending on the actual needs of the construction, requiring smooth and no holes, so that top coat construction;
7, surface coating: epoxy self-leveling top coat with a trowel, roller surface and the top coat twice slip type shall require floor bright and clean after topcoat, color uniformity.