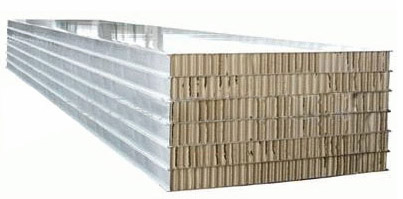 Clean paper honeycomb sandwich panels is a new high-tech building materials is a traditional rock wool sandwich panels and other traditional generation product than conventional flame retardant sandwich board bearing capacity higher lighter weight and more strong sound better and better environmental performance superior characteristics are widely used in the construction of clean bio- food and pharmaceutical fields of electronics and military hospitals are the first choice of modern architecture.

Technical standards:
A flame retardant :. B1 grade flame retardant materials Oxygen Index: > 44.2
2 Thermal conductivity :0.1-0 .075w/m.k
3 . Compressive strength :1.5-5 .0 Mpa
4 core density :20-42Kg / m3
Specifications:
[ Surface material ] up / down 0.3 ~ 0.6mm color coated steel ( galvanized sheet , stainless steel plate , color coated steel anti- static )
[ ] Paper honeycomb core material
[ Width ] tongue and groove style effective width : 950mm, 1150mm;
[ Thickness ] tongue and groove type thickness : 50 ~ 100mm;
[ Length ] by project requirements and conditions of transport length
Colour selected by the engineering requirements ( conventional as lime , navy )
Paper honeycomb sandwich panels are green products in the true sense , a 100% waste recycling . Products by the National Fire Protection Building Materials Quality Supervision and Inspection Center of flame retardant materials meet the requirements ( in accordance with the provisions of GB 8624-1997 test for the flame level ) . The product has good flame retardant , anti-static , no dust, the overall stiffness and good. Fire does not produce toxic substances , waste can be completely recycled, the polystyrene board , polyurethane, rock wool and other materials, replacement products, widely used in the field of electronic engineering cleanliness , hospital operating rooms , laboratories , etc.